Keith Mitchell's 33% scale Hunter
Keith keeps this site updated with the progress of his latest project, a 33% Hunter. Because of the amount of information received a separate page has been dedicated to this model.
The 33% scale model will have a wingspan of 11′ 6″ and length 15′ 6″. It weighs 65kg (143lb) and is powered by two Merlin Mk II turbojets.
The left hand picture shows the nose structure showing the stress relievers and the stainless steel fixing tongues. The right hand picture shows the undercarriage mount with the retract air cylinder.
Here we have pictures of the inner wing panel with the retract leg. In the first picture you can also see the nose section with retract leg. In the other can be seen the scale position of the main and sub-spars and the carbon-fibre reinforcement of the wheel well.
Here can be seen the flap structure with its 3mm steel linkages and three sailwinch servos. (Feb 04)
As the three pictures below show, by November 2005, the model is now covered in aluminium sheet. What a fabulous job Keith has done. It is such a pity it will be painted.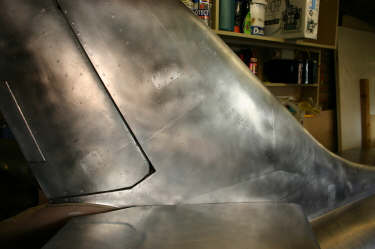 Here is the model as it begins at taxi trials in April 2006. (Winterton 2006)
Here is a fabulous picture of Keith Mitchell's Hunter undergoing taxi trials at the 2006 Scottish Airshow. Unfortunately, shortly after this photograph was taken, the model 'lifted-off' and Keith decided it land it for safety reasons. This resulted in considerable damage and the model is now undergoing repair. It is expected to be ready in about six months.
First 'official' takeoff, what a beautiful sight, defiantly worth waiting for, watch out for it in 2007
This is not the end of the story, now that Keith's Hunter has flow successfully, it will continue during the 2007 season.
Congratulations Keith, a truly fantastic model.