Waterplane Flying
Since its foundation, the LMA has had an enthusiastic group of waterplane members. Back in the 1980's frequent summer meetings were held at a rented lake near Newport Pagnell, but when the lake was sold its new owners were not keen to let the flying continue.
The association subsequently found a new home at a privately-owned lake in the Midlands near Northampton. The flyers share it, very amicably and without difficulties, with other activities. The LMA has dedicated use of one end of the lake and a stretch of foreshore which can be reached by vehicles. The banks are largely wooded so recovery of drifting models is not usually possible without a boat.
Special exemptions have been negotiated with the CAA to permit the operation of all categories of model seaplanes, large and small, at this lake. The LMA Waterplane Officer is in-charge of flying and pilots are required to observe LMA safety guidelines and reasonable noise limits.
Members can use this excellent facility for flying at any time, subject to prior application to obtain entry and use of a boat. Meetings are held on the first Sunday of each month. Non-LMA pilots pay a small daily charge. Spectators are welcome, though space is limited.
Members intending to visit the lake or anyone with general enquiries should contact The Waterplane Officer David Bradshaw (phone 07497 012884) before setting out.
New Pitures and update comming to this page soon
Here are some pictures of LMA members enjoying some waterplane flying.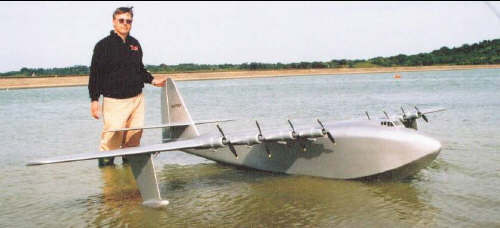 In August 2004 Tony Nijhuis flew his 15′ electric powered Spruce Goose off water for the first time. The venue was Bewl Water Reservoir near Tunbridge Wells, Kent by special permission of Southern Water and through RCM&E. It really was a superb day with light winds and sunshine……a day to really savour. The model has a retractable undercarriage. The doors were sealed and duct taped which worked a treat. To control the model the left and right hand bank of motors could be operated separately. To take off, full up elevator had to be used to get the model 'on step' , once achieved the elevator was backed off and flying speed was aloud to be gained before a conventional take off achieved.
This is a rare picture of Jeremy Shaw's 15% scale Stranraer. The model was built in 1987/88. It had a wingspan of 152″, length 98″ and weighed 38lb. It was powered by two Laser 180Vs.
Like the prototype, it was flown from land off a dolly, but most of its flying was from water. This photo shows it flying over Loch Insh.